Step 1:
Click on the share icon at the top left of the Item Numbers Screen.
Step 2:
Click the Velocity WMS option.
Step 3:
On the login page:

Select the Velocity Connection.
Enter your login credentials for Velocity WMS.
Make sure that you receive a success message indicating that your scans successfully sent before exiting the application or continuing on.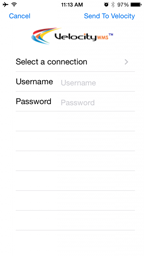 Step 4:
Login to Velocity WMS on your computer.
Click the Import button on the receiving module for a particular receipt.
Your scans have now been added.